Terracotta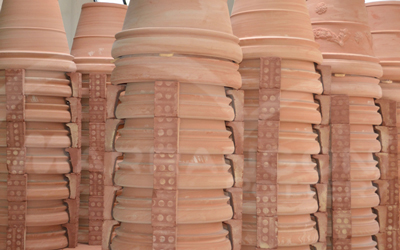 The terracotta is a hard and resistant material achieved by a firing process at about 1000° centigrade of a mixture made of clay and inert material, usually sandstone. It's known throughout the world and can be produced in raw materials such as bricks for houses, but also other items, thanks to the easily malleable nature of the clay.
In Tuscany, in the area of Florence and Siena, the craft of garden pottery has been developed over the centuries and is famous throughout the world for its elegant and refined desing and also for the quality of the clay. The subsoil of Tuscany is rich in quality clay with high mechanical strenght and this allows the production of very large pots, greater than 100 cm in size. Without going into specific technical details, we can say that the important features of a terracotta pot are:
the clay used
the design
the firing process
The Tuscan terracotta is obtained by the best of these features is definitely the best garden terracotta in the world. This is mostly due to the high quality in Tuscan which has allowed this craft to be developed over the centuries. The clay of Impruneta and Siena are among the best clays in the world due to the presence of Galestro and iron oxide. These clays can be used to produce pots with high mechanical strenght and porisity which is ideal for plant life. The high firing temperature and the processing techniques along with the quality of the clay allows us tu get a terracotta which is frost-resistant and durable: in Tuscany there are terracotta which are over 300 years old. The centuries of experience allow accurate modeling of sophisticated Tuscan style, but also a simple and modern design can be achieved thanks to the use of colored clays.
It is possible that none of this would have happened without the typical clay of Tuscany.
---